The hot list that everyone is talking about, as featured in Israellycool. 
Ever seen a sexy settler? From the way the media likes to portray these heroes as "religiousfanatics," you probably haven't, unless you've walked these beautiful lands of Judea and Samaria (aka the West Bank) for yourself. These biblical heartlands have produced some of the hottest heartthrobs on the planet. Makes sense, not only because they grow up in rugged terrain, bringing out the man in them, but because they're defending the free world, even if the world doesn't appreciate it. So here are just 7 of the sexiest settlers, with a few words about what makes them so sexy – inside and out.
And yes, ladies, some are even single….
1. Yair Adler, Becoming The Best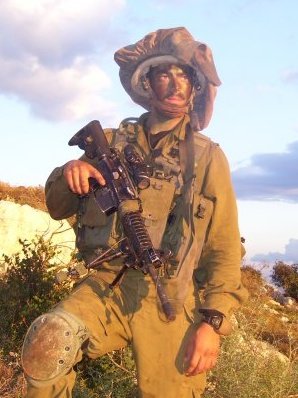 Born and raised in Gush Etzion to American immigrants, Yair, 25, was already a heartthrob in high school, and then moved on to a pre-army prep school to get emotionally, physically and spiritually ready for serving as a commander in a Special Forces unit (Palsar 401) in the Armored Corp. During the Gaza War this past summer, Yair was called up as a reservist and searched house to house and tunnel to tunnel for those cowardly terrorists. But he's not only into searching for bad guys; he's into grooming good guys. During high school, Yair volunteered in the Big Brother program and mentored boys to be their best, for themselves and their country. He is currently a student of civil engineering at College of Management in Jerusalem. He loves to play guitar and travel – and yes, he's single!
2. Amichai Ben David, Jock, Brains, and Heart
With piercing blue eyes and fun loving personality, Amichai Ben David, 26, was already poised to become the crush of all the neighborhood girls when he moved to Efrat, Gush Etzion, with his family at age 3. During high school, he volunteered with Simcha Layeled, an organization based in Jerusalem dedicated to improving the quality of life of disabled and seriously ill children. During his IDF service, Amichai protected his people as a company commander in the 401 division of the Armored Corp on the borders of Gaza, Syria, Lebanon, Egypt and in Judea and Samaria. His love of sports brought him to the Wingate Sports Academy in Netanya. He went on to form a soccer league and to coach both the girls' and boys' soccer leagues in Efrat. But don't let his six-pack fool you into thinking he's just a jock. He's currently studying at the Interdisciplinary Center in Herzliya and organizes blood drives in his spare time. A staunch proponent of Israel advocacy, Amichai takes part in campus political debates and is active in Beit Prat, a leadership training program. He's single. (Swoon).